Take a look…..and what do you see? A pile of sweet fluff that looks like Kady? Is it a photo of my precious little Kady? No, but when we saw this little fella we had to meet him. He is so light and so sweet and in need of family. We felt we could finally offer a little pooch who reminds us of our Kady just that.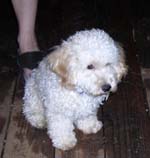 So, you guessed it, we adopted this sweet little guy that we so lovingly named Bennett or Benny There will be moments when we all accidently call him Kady or we see him somewhere and we think 'he looks so much like Kady' or 'that's what Kady used to do'.
He does however have his own little personality and just loves all of us. Just like Kady, we get to watch Bennett discover the world around him, every little thing is new to him, grass, wind, stairs, noises. It is so fun to watch him discover it all.
Zippy is not quite sure what this means but he is really trying to be accepting and loving. I think he is finally realizing that there is plenty of love to go around!