I have been spending a lot of time on the Splitcoast Stampers website because I just had to figure out how to 'dry emboss'. Well, when I found out there is a cool little machine for it, I was so excited. I researched all night and found that this cute little "Cuttlebug" was on sale.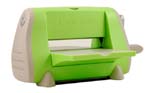 I told my sweet, adorable husband that THIS is the only thing that I want for Christmas!!!!! I dreamed about it, must have talked about it in my sleep because yesterday my darling husband asked me if I knew of anyone in town who sells it. Well, I had no clue, but I had to find out! I had only seen it online. I made several calls and found out that Jo-Ann Fabric carried it and it was on sale! So Kip got off work early (wow) scouped us all up, took us to dinner and then to the craft store. He asked me to pick out a few embossing & diecut templates to use with my new Cuttlebug. I could not contain my excitement. It isn't even Christmas!!! I feel so love, appreciated and blessed!!!!
I love my new toy!!! Thank you honey!!!