This years PV Twins tball team had a great season. This years team seemed to be so mature compared to last year. Granted they are a year old and know how the game is played, even so they seemed better than other teams. Each of the kids really improved in all areas, they all seemed to cheer each other on, showed good sportsmanship and had lots of fun.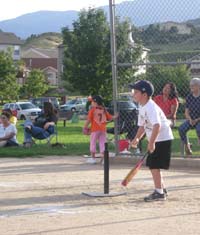 Hayden really improved his running and catching from last year. He even improved his favorite part (hitting) that was what he was strongest in last year but this year he really seemed to be better all around. It was so fun the last few games he actually caught a few balls. I could tell he was happy that he was able to accomplish that.
I am a little sad another summer tball season is over, it will always hold fun memories for me. This park is a very special park for us and many special memories. I hope that both of the kids will always treasure these days too. I know that Hayden will always remember that his Nana B and Aunt Ni went to everyone of his games. He has a great fan club. Way to go Twins and Hayden!!!!