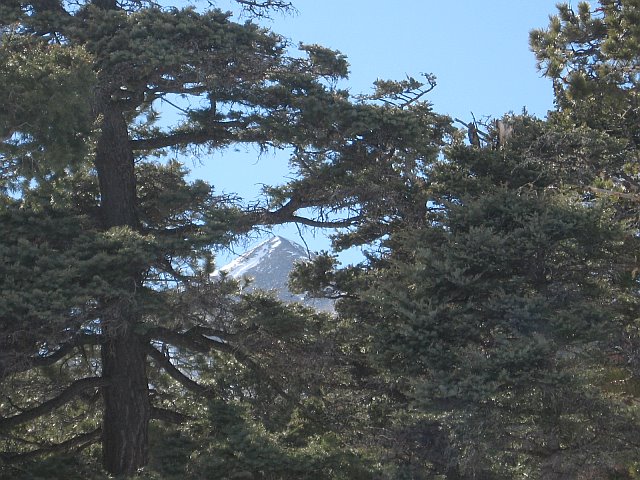 I'm old enough to know that it is impossible to consciously try to repeat 'good times.'
Over time, we have gone on trips to places where a year or two before we enjoyed some of the best times of our lives. However, when we returned, it just wasn't the same. Different phase-of-life, different expectations, who knows? But it just doesn't work. Seems like the only way to have a great trip is to just not expect too much and if it greatness happens, it happens.
So, when we loaded our snowshoes in the car last weekend to head up to our annual Sunday School couples' retreat, I wasn't sure what to expect.
Last year, we took our snowshoes with us, not sure if we would have enough snow or if we would even feel like exerting the energy required. We did end up going and it was incredible. It was bright and sunny and there was a ton of snow. We snowshoed for an an hour or two enjoying the exercise and giddy-dizziness that come with working out at high altitude. Then we found an area of deep powder and just plopped down., making a snow recliner for each of us. We talked and napped in snow while the sun smiled on us. Perfection.
This year.
Well, it was different. The night before we were planning on going snowshoeing, I talked with a friend who was going to hike in the same general area early in the morning. I told him to hook up with me and let me know how the 'conditions' were (this was a retreat, after all, and we were not planning on getting up early). At lunch he told us it was all hard-packed snow and we really didn't even need our snowshoes. Discouraged, but not broken, we decided to just go on a hike instead.
We decided to drive to the trailhead and when we couldn't even get to the trailhead due to the deep snow (and I have a 4WD) we were glad the snowshoes were in the car.
We started hiking in, carrying our snowshoes with us, and within about 1/4 mile we realized we would need them. I haven't done this enough to be very adept at putting them on my feet, so after Kim had hers on, I told her to go ahead while I finished putting mine on. I'd catch up later.
Five minutes later, when I finally 'sort of' had my shoes fastened I headed out. After awhile I caught Kim (actually she was waiting for me, but I still 'caught up' with her). We were walking on the raised section of a double track road and the snow was a foot or so deep, but firmly packed. Then I stepped a little to the left and – 'ploop' – I sunk up to my thigh (this was WITH snowshoes on my feet). I put my hand down to try and get some leverage and when I pushed down, my arm sunk up to my shoulder. I was stuck. Apparently, bright sunlight and warm temperature made the conditions somewhat different than what our friend had experienced 8 hours earlier.
Eventually I got out and we continued carefully on our way. The snow was anywhere from 2-4 feet deep and it was incredible. Like last year, it was very sunny. Unlike last year it was horrible windy. But it was still good. We plodded along for a mile or two and just enjoyed the conversation (short words, grunts, nods, gasping for air) and the time together.
We were at the foot of some 13-14K-foot mountains and looking back to the East we could see Pikes Peak from the 'backside.' Seeing Pikes Peak made us think of our kids back home so after realizing we'd climbed high enough to have a 'couple bars' on our cell phones we gave them a call.
Big mistake.
Gillian was having a very bad day and cried the whole time she was on the phone. It was a very heartbreaking phone call. It made us just want to pack up, head home, pick her up and give her a big squeeze.
We said a quick prayer for Gillian, then continued on our way, sinking every 50 feet or so to our knees or thighs (my knees, Kimmy's thighs :-)). We continued for another hour or so and then headed back down. Too windy for a snow recliner this time.
When all is said and done, it was a great trip and it was part of a great weekend, which including driving home in borderline white-out conditions.
Yep… things change, but even when we were up to our waist in snow, with cold wind blowing in our faces, with the knowledge that our little princess was at home crying her eyes out, we were still outside enjoying the gift of being together, the gift of laughter and the gift of a late-coming, God-given maturity–which means that we are fully aware we love our children (and a lot of other people) more than we love ourselves.