It must be the first of December!
Looks who is here!!!  Welcome back little Elf!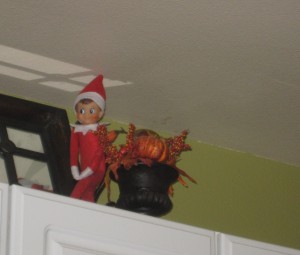 I absolutely love that my kids enjoy our family traditions and that they remember significant dates like December 1st.  As soon as I woke up, the kids come to me to remind me…."Crimpus should be here, mom! Do you think he came back?"    Within minutes they found him.
I am curious if this year will be the last year for our Elf fun. Some of H and G's friends keep sharing with them that Santa is not real and that they shouldn't beleive that he is ( sigh ).  I had hoped we could continue to have fun with our little Elf, Crimpus for many more years…but alas….that may not happen.  I sort of feel that H is on the fence right now, but he loves the fun that we have with it that he goes along with it.