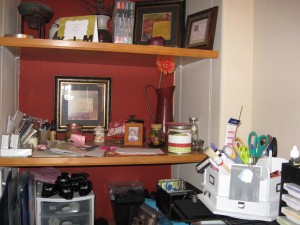 I do not mean to be redundant or annoying, but sometimes something is in your face and you just can't help but appreciate it. This week it happens to be witnessing the love our family has for each other and how well we know each other. I cannot say that 'gift giving/receiving" is my main love language….but I sure do love it!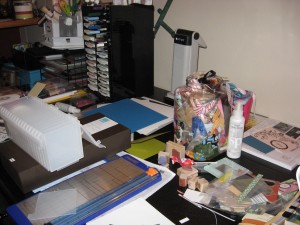 My dear sweet husband had me anticipating a surprise for about two weeks. I thought I was gonna bust. I think he tells me that he has ordered something for me just to torture me. I have to say that it was totally worth the wait.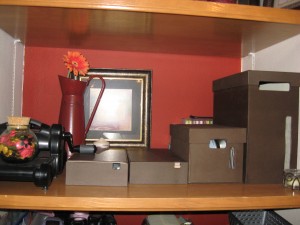 This filled my cup. To have someone truly know you and love you so much that they search out something they know you want but wouldn't get for yourself. You see, I love organizational tools, but all of the ones that I love are so pricey that I rarely indulge myself. I also love that my stamping corner is in the main living area. However, that can also be a challenge because it is our main living area. I try very hard to keep it neat but sometimes that just doesn't happen. My desire was to bring in a bit of functional decor to the shelves. My surprise accomplished just that. Kip sought out some decorative boxes I had my eye on for this area and I have to say it looks so much neater.