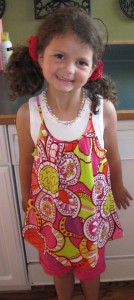 What a journey we have had so far precious daughter of mine. Six short years ago, you completed our family sweet girl. I am so thankful for you and I love you so much. You bring such bright energy into our lives and are so passionate about most things. Your smile and laugh can always bring a smile to my face and lift me up, I pray that this year you will have many smiles and lots of laughter. This is a big year for you sweetie, many new experiences headed your way.
You are doing great in ballet and did fantastic in your homeschooling work last year. This year you will be in school full-time and will start scouts (AHG), dabble in piano lessons and you have expressed interest in Tap lessons. You are a very talented little girl and you can do anything you set your mind to. I love how musically inclined you are – you know you get that from your daddy, right?
If I were able to wish for ONE thing on your birthday little girl is that you would continue to know Jesus, and accept Him, into your heart. Okay, and i would also wish that time wouldn't go so fast and that you could be a child for much longer.

I love you sweet girl. God Be with you today and always!