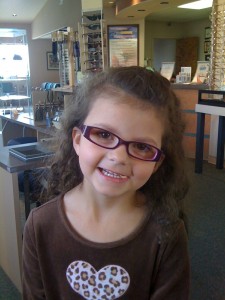 This week we took Gillian for her first full eye exam with our favorite Optometrist, Dr. Bergamo.  Gillian has been getting several headaches so we decided to start with getting her eyes checked. Although her eyes are NOT 'bad' there are some issues that glasses can maybe help with. She has a small astigmatism, which apparently runs on my side of the family, and a minor issue with her eyes converging when she is looking at something up close.
So my precious baby girl gets her wish, she gets her glasses.
I just hope that she will quickly learn to care for them, responsibly.  That's not too much to ask now, is it?