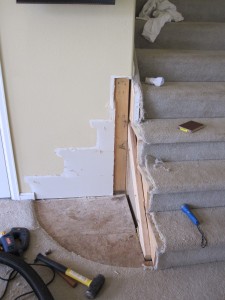 After nearly fourteen years in our home, 4 dogs and 2 kids later our humble homestead is in need of some serious tender-loving-care.
The terribly cheap carpet we swore we were not going to keep for long is dingy, dirty and worn out. I am so excited to get rid of this grayish mess for some rich wood tones. In order to get ride of wasted space and making the installation of the wood flooring easier we are taking out the wrap around section of our lower stairs and adding a half wall there. This is where our projects begin.  In addition to new flooring,  we plan to do a few updates in our kitchen (aside from all of the lighting fixtures that we have done) by bringing in new appliances and countertops to start. We also plan to  finally add some living space by finishing our basement.  I cannot tell you how excited I am for these projects- I pray that we can stay on budget and on schedule.
I am so grateful to God for His provision and inspiration.  Thank you God for my husbands job, his dedication eliminating 95% of our debt and his endless hard work to make this possible.