Seriously!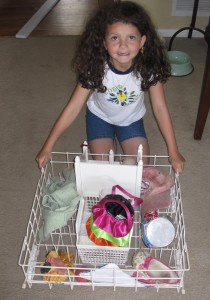 I have heard of kids (mine included) playing with big boxes and having hours of fun with their cardboard creations.  It often causes parents to scratch their head and wonder, "Why exactly do we buy toys?"
Last night my super talented and loving husband installed a new dishwasher for us and from the old one he took out the top rack and handed it to Gillian and said, "Here sweetie, here is a go-cart for you" – half joking of course!
Well my precious little girl has had so much fun with it. She puts everything and anything in it and drives it all over the house. It is quite a sight, this thing is wide and bulky and she just pushes it along like it is truly all that!
I wish I could be in her brain right now and understand why this is so cool.  Kids are so imaginative, cute and funny!!!