In a large mixing bowl, combine:
1 1/2 cups gluten free rolled oats (I use GF certified Bob's Redmill)
1 1/2 cups crispy brown rice cereal
2 TBSP ground flax meal
1/3 cup organic raisins
1/4 cup pumpkin seeds
1/4 cup finely shredded coconut (unsweetened)
pinch of sea salt
In a small saucepan over low heat, stir together the following ingredients until just blended (Stir continuously and don't walk away from your saucepan! Pull it off the heat immediately once blended.):
1/2 cup honey (agave, or brown rice syrup for vegan)
1/2 cup almond butter (or sunbutter)
1 TBSP coconut oil
1/2 tsp cinnamon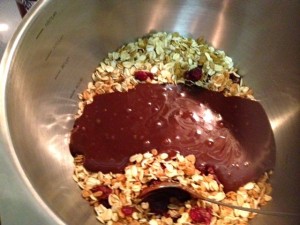 Carefully pour the contents of the saucepan into the dry ingredients and combine.   Place in a lightly greased (I use a bit of coconut oil) 11? x 7? pan.  Using a spatula, press the mixture into the pan.  Cover with plastic wrap and place in the freezer. Freeze for at least 2 hours before enjoying.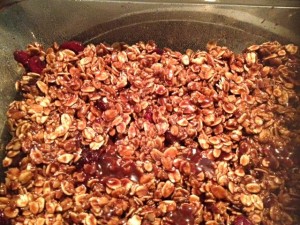 Store in an air tight container in the freezer.
Cut into bars & Enjoy!