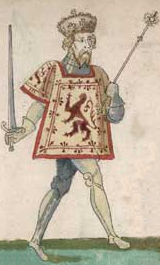 As a result of a little bit of research for Gillian's School's Immigration Day (which actually consisted of an email to my awesome sister-in-law), we discovered a fun bit of news.  Our children's Great (x24) Grandfather was King Robert II of Scotland.
When Gillian took this bit of news to school as part of her project, her classmates started calling her "Princess."  In fact, I think they still are.
We started doing  a little more research into King Rob and discovered some great facts:
Robert I, "Grand-Daddy" Robert II's,  Grandfather, is none other than "Robert the Bruce" made famous in the movie Braveheart.  I think Kip is going to use this as an excuse to spend three hours this weekend watching that movie… AGAIN.

Robert II was the first monarch in the house of Stewart (Stuart), which ruled Scotland through to Mary, Queen of Scots (who was forced to abdicate in 1567 and was executed years later).

He had six legitimate children (two different wives) and nine illegitimate children… what a guy!
We've always talked about taking a trip to Scotland… maybe this is the extra incentive we need!