Dreaming of a white Easter?!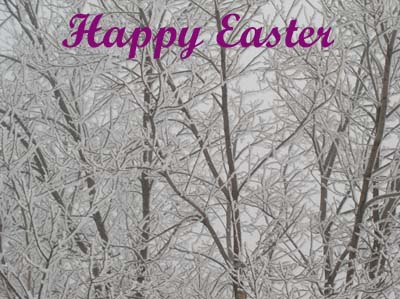 You got it! We are once again celebrating a Wonderfully White Colorado Easter. It is a beautiful day, the snow is still falling and the trees are all covered in white. The beautiful colors of Spring dresses are highlighted with the white back drop.
We got to see friends and family this morning at church, what a great start to the day. The orchestra and choir made worship so special. So many beautiful songs to fill our hearts and ears. Some of my very favorites; Christ Arose, Christ The Lord has Risen Today, In Christ Alone, Thine is the Glory, Hallelujah Chorus and a new favorite An Easter Alleluia.
The Easter bunny came leaving fun surprises for the kids and soon we are off to visit family. Blessings to you!