It is true, I had been holding tight to my baby girl, hoping and praying that she wouldn't grow up so fast. In fact, until this weekend, I was not able to think about transitioning to a big girl bed. I kept telling myself that is was because I was certain that my little night owl would be trouble at bedtime, but truth be told, I was holding on. However, this weekend I convinced myself and my little girl it was time to make the leap! The fun part is I was able to give my little girl the daybed that I had when I was younger.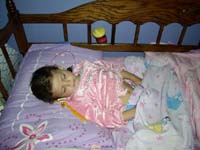 She loves the fact that it used to be mine and that she gets to use her princess sheets and comforter now. I really did not think it would be so easy, but it appears that my little girl was more than ready for her big girl bed and was humoring her mom! I must admit that I still have her crib in her room. I was not able to take it down just yet! I remember watching Kip make it when we were expecting Hayden.
However, I love to just stand next to her and watch her sleep, she looks like a little angel in that big bed.