"I love camping mommy" ~ Gill

"I wish we could stay another night, mom" , "Can we come back next weekend" ~ Hays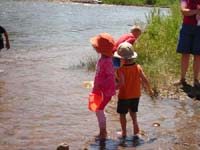 You can never plan for a trip to be perfect, you can never know how each blessing is going to be delivered. But, you can look back and give thanks and praise to God for a wonderfully special weekend out with family and friends. This is our third trip and second year camping in this area and our kids love it. They are familiar with it and they have things that they look forward to. I think what they like most is the little bit of freedom they get from the routine we have at home. They stay up later, are outside all day, with their friends for many days, lots of good fun, treats and traditions.
This year was very special because Gill earned another candle on her birthday cake during our trip. The day of her birthday she woke up and seemed older, wise, more precious and obedient. She had a glow about her that radiated the beauty of our surroundings.
We had talked to her for the last few weeks about giving up certain things upon her birthday. The morning of her birthday she woke up and jumped out of her sleeping bag and gave me a huge hug and handed me her binkie and said "bye-bye Binkie" , "Mom, I still need my belly button though". Bless her heart.
Lord Jesus, thank you so much for blessing our family with our daughter, I pray that you will continue to bless her life and that she will glorify you, all the days of her life. In Jesus name we pray, Amen.