While trying to figure out how to pack for our family vacation (7 days x 7 people), we had to be creative and think outside the suitcase. Although the RV has lots of great storage, we needed to make things easy and not create a lot of extra weight.
Our solution? Space Bags and Ziplock Bags.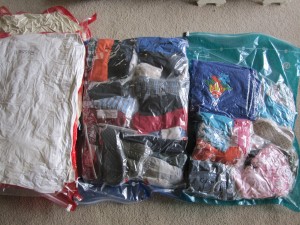 These clear (on one side) bags make it easy to see what each bag contains,  The other obvious benefit is allowing more storage and less space.   Since I didn't have a huge, heavy suitcase to lug around, I packed one bag each for the four of us- I was able to pack clothes for 7 days including swim suits and towels.  Additionally for  the kids,  I  used a Space Bag for each of them and I also packed a Ziplock bag for each day to include the fresh clothes for that day.   If you need to label which days they are to wear what clothes you can do that on the bag.  I really only needed to do that on our Disney days, because I wanted to color coordinate us in bright colors so that they would be easier to find, if I needed to.
We also used the space bags to pack our bedding each day, with the big blankets, sheets and comforters, it was really important to make those as small as possible.  Once in the bag, just use something with a vacuum and suck the air out and plop in storage.
All in all, I was pleased with method of packing, and I personally would do this again.