For the past couple of years we have tried to plan a couple of different family vacations and for a variety of reasons they didn't work out. Hayden and Gillian were so gracious and understanding when we didn't make it to Mount Rushmore last Summer but they continued to talk about going somewhere out of Colorado.   We have created many wonderful family memories around our beautiful state; camping trips, fishing trips and day trips.  But, the itch to explore the world around us was growing.
Many conversations with my family had taken place, every one had "a dream" or an idea of the perfect Family Vacation.   I knew that somehow , some way we were going to take a trip, but I really did not think it would happen the way we as a family had dreamed it.
Even three weeks before we were on the road, I did not think our plan was going to happen.  However,  the following week, my sweet daddy flew out to purchase The Motor Home.  When the kids found out…they celebrated and started to get very excited.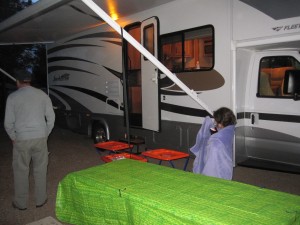 When Papa arrived home we hurried over to check out this new beauty.  Wide-eyed, Hayden and Gillian simultaneously say "oh wow!"
I couldn't believe it….we are one step closer.  This trip may happen!!!!!!
Next tasks:
Get everyone's schedule to work for the same 10 day period.         Check
Map out & agree on our route.      Check
Shop for and stock RV.      Check
Pack & load.         Check
Buckle up and we are OFF!!!!!!  Wooohooooooooo!