THE day is finally here!
Saturday, June 12th 2010
It is 5:00 am and Hayden has been up since 4:30, dressed and ready to go. I scramble to get my last shower at home, Kip tries to wrap up a few work issues and Gillian stumbles downstairs wrapped up in her soft blankie ready to sleep once we load ourselves into the Motor home (ya right).   Excitement is definately in the air, Kip and I are trying to think if there is anything that we could have forgotten to pack- don't you just love how we do that?  We are all packed and practically out the door, seriously….that is not the time when you are going to suddenly remember that one important thing you forgot.   That does not happen until you are at least 10-20 miles away from home.
5:15 AM   Mom, Dad,  and Nicole (w/ Shaney in toe to spend the week with her cousins Zippy, Bennett and Piper) arrive.  The Hustle and Bustle begins, loading those last few things into the RV and making sure everything is ready for our house/dog sitter.
5:30 AM  We are leaving Anasazi Court and headed South on I-25 to New Mexico.   Everyone is a bit sleepy, but the buzz is all about our destination for that day.
We make a few stops for gas and lunch along the way.
~ 7:30 PM we pull into the  nice KOA Park that we had reserved, it was somewhere between Williams, AZ and Flagstaff, AZ.  It was a very nice facility, pool, gift shop, camp fire, cafe.  The kids really enjoyed it.  We were all very tired, once we  found our spot we pulled in and hunkered down the homestead.  We got all of our beds ready, had a bite to eat, enjoyed the campfire for a bit and went to bed.   Awwww……I have to say I was really surprised at how well I slept.  Kip and I had the bunk and it was very comfy.
Sunday, June 13th
Mom, Dad & Hayden are the early risers and this morning was no exception.   They were up and had a good warm breakfast before any of the rest of us were awake.  Leaving the late rises to have cereal, I usually trade more sleep for less breakfast…it is worth it.  Once we were all up, we packed up our beds and converted the bedroom back to our family room (I think it is so cool how RV's can transform so easily).  We showered, changed and were back on the road for about and hour and a half.  Our first stop was to the amazingly beautiful Grand Canyon.
We spent a good part of the morning walking along the South Rim of the canyon, taking lots of pictures.  We saw a few people being pretty foolish out on the exposed parts of the rim and it made us all wonder, but it was Hayden to ask, "Has anyone fallen down and died?"  We were sure that there had been many such cases and in one of the gift shops, there was a book all about death in the canyon, called  "Over the Edge:  Death in the Grand Canyon" .  Of course we were all intrigued and Kip decided he had to read it.   It is a book worth reading if you are interested in stuff like that, it is truly amazing some of the things that have happened in the Grand Canyon.
One of the other big topics of conversation spurred by the kids was "how was the canyon formed " and  "how long did it take" .  Luckily we had a long trip ahead of us to share with them the different theories on those topics.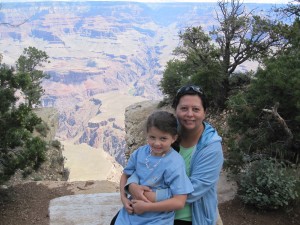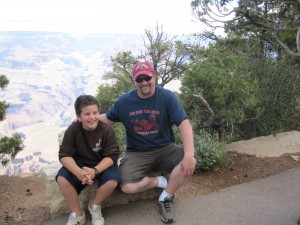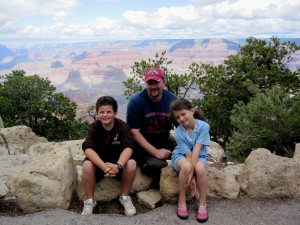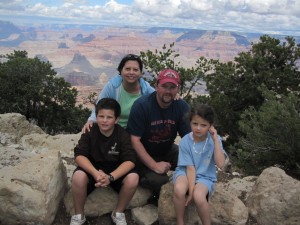 Not too far from where we posed for a few pictures a little critter caught our attention and the attention of many others around us.  This little squirrel (we named Oreo) had apparently scored a treat.   As with most National parks the animals are not that afraid of people and he just sat right in front of us on the wall to eat his Golden Oreo.  The funny thing is that Oreo, like most people pulled apart his Oreo cookie and at the cream center first and then ate the cookie.  Ha!     You can tell this squirrel is not starving, he was so cute and plump.
"Given enough time, nothing is more changeable than rock."  Enos Mills