We are moving into a new era with our eldest child. It is one I distinctly remember in my childhood. I don't really know if all kids go through this stage or if it is just children exposed to music. But, I must admit it is pretty cool.
At a very young age, as early as in the womb, both of our children were exposed to music. Mostly Classical, but surely other varieties that Kip and I love. At the time, Kip played the trumpet for the Pikes Peak Philharmonic and a few other groups and we would go and listen to his concerts. Hayden would start out bouncing to the music and end up falling asleep in my arms. Kip was very proud to have his baby boy there watching.
Anyway, this not so little boy still loves music and to our surprise has an ear for good music.  His favorites range from Beethoven to The Beatles and plenty in between.  What surprises me is the initiative he took to look up the sheet music to The Beatles song, "Let it Be". We found him at the piano with the sheet music on the iPad trying to knock out the notes.  A few minutes later Hayden and his daddy were knocking out the tune and recording it in Garage Band.  It brings me great joy to see his passion for music and bringing it to a medium that will inspire him to 'practice'.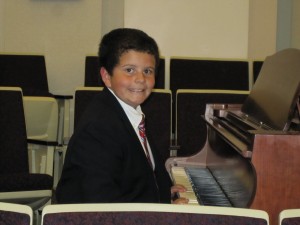 I must say it is moments like this that make hearing one song over and over and over and OVER and being sung quite off key, worth it.  Thank you God, for giving us beautiful music,  the ears to hear it with and the heart to experience the emotion it can bring.