If your birthday is in July in our home, which is every one but me,  we celebrate ALL month long.  By August 1st, I am partied out!
This year my son opted out of a party (smart boy) for a bigger gift which worked out fabulously because my daughter wanted a party with all her friends, of course I had to bring her back to earth and ask her to limit it to 11 of her friends.
We went with an American Girl Doll Tea Party.  Pinks, yellows and whites with a hint of green thrown in for the greenery.  I ordered hand made purses off Etsy for the each of the girls dolls. I had so much fun finding decorations in those colors, I want to transform our front room area to look like a garden.  I had white lights wrapped in white tule and ivy going up the stair rails, a streamer canopy, pink tule table cloth, pink and yellow candies for the yellow vases, English roses, the sweetest tea set, and lots of treats dipped in pink chocolate with yellow and white sprinkles.
The girls all arrived in their cute tea party dresses and I could not believe this but all 12 girls had an American Girl doll and nearly half of them dressed just like their dolls.  It was so precious to see these sweet girls all dressed up with their dolls.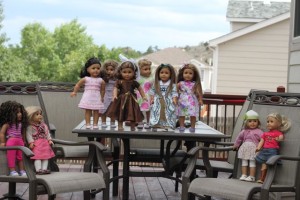 The girls made a craft, danced and seemed to have a fun time.  Gillian was so gracious and so thankful.  She kept telling me thank you for all of the work I put into her very special party.  That was all this mommy needed to know it was all worth it.
We pray that this group of  young ladies will continue to grow their friendships and always be an encouragement to each other.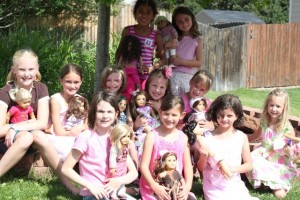 Disclaimer:  Insanity took over when I came up with this idea.  Thankfully, my kids do not have parties like this every year.  Although I had a blast preparing for this event, it was a lot to take on on top of all other things "Summer" .