This year I got a new cookbook and actually got one for several people for Christmas. I love giving it as a gift because it has a lot of stuff about Colorado in it, great for out of town family members. This recipe is called:
Turkey Creek Tortellini Soup from the cookbook "A Peak at The Springs"
This recipe was a hit- lots of flavor and plenty hearty for the men in your life.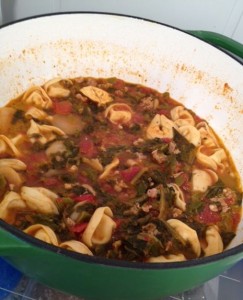 1 Pound of pork sausage or turkey sausage. (I actually used Italian sausage)
2 (16 oz) cans Chicken broth
2 chicken bouillon cubes
1 (10 oz) package of frozen spinach
1 (10 oz) can diced tomatoes
1 (10 oz) can tomatoes with green chillies
1 garlic clove chopped
1 (8 oz) can sliced water chestnuts
1 (20 oz) package tortellini with cheese
Grated Parmesan cheese for sprinkling
Brown the sausage in a skillet, stirring until crumbly; drain. Combine sausage, broth, bouillon, spinach, tomatoes,tomatoes with chillies, garlic and water chestnuts in a Dutch oven and mix well. Simmer for 1-2 hours. Add tortellini. Cook using the package directions. Sprinkle with Parmesan Cheese and ladle into soup bowls.