Santa had a really tough year this year at our house. Both of our kids had really specific wishes for  Christmas. Unfortunately, Gillian's had to come early, so Santa was not able to deliver the ferrets to her. Hayden wanted the Photoshop Suite, which Kip and I had already planned to do.  So Santa decided to take the objective route this year and gave each of them gift cards.
Hayden wanted some software training so Santa paid for that and Gillian had the extreme pleasure of picking out a million earrings for herself at Claire's – so fun to see the joy on  their faces.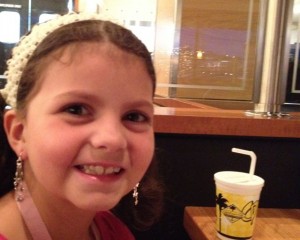 One night we headed to the Shops at Briargate, Hayden and Kip headed to The Apple store, and Gillian and I went to Claire's.  About 40 minutes later we met  up and had dinner together at CPK – I love those little outtings as a family.  Great memories for all of us.