1 Chronicles 16:34
Give thanks to the LORD, for he is good; his love endures forever.
I must start this post by thanking God, who lovingly answered our prayers years ago on what school we should send our kids to.  Of all the wonderful places our children could have gone to school, I am so thankful that God guided us to TCA.
We feel so blessed with the quality and character that we see from the top down in their school.  Principal, teachers, staff, parents, children.  The 13 years that our children are in school will have a large impact on the character our children will develop.  I am thankful to have so many quality families to raise my children with.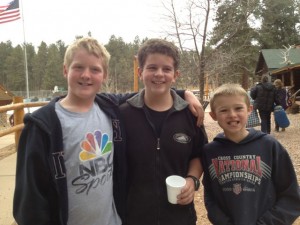 Recently Hayden and several of his friends went to Winter Camp together for a weekend of worship and fellowship.  It was a weekend to unite the boys not only as a close knit group of buddies but of young men who can lean on each other and be accountable to their faith with one another.   I pray for these boys and hope that God will always be the center for their friendship and that they will all be there for each other in the good times and the tough times.  That they will lead each other down the right & true path and that they will be the strong leaders of our future.