There are so many Titles that I could have picked for this blog, I do not know if I could possibly describe the weekend we experienced this past Labor Day.
Our family weekend was full of fun, laughter, extending ourselves spiritually and physically, making new friends and building upon old friendships.  It is truly amazing how much fun we packed into 3 days.  I know that we all slept well and very hard last night!!!

God was showering His love upon us this weekend, as I was going through many of my photographs from this weekend, it is as if God wanted to be included in our pictures.  The beautiful golden rays of His warmth were in so many of my pictures, it can transport me to those exact moments and fill me with joy!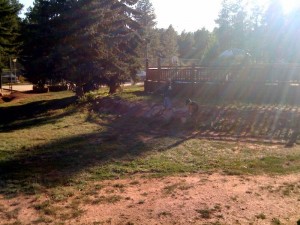 The forecast where we were staying was to be cold and rainy, however it was cool in the mornings &  evenings and warm during the day.  Perfection….a reprieve from the heat we have been experiencing all Summer.  The view, spectacular; mountains, trees, blue skies and families.  Young and old alike, generations, new traditions and a feeling of belonging.  Not wanting to leave but looking forward to returning.  So thankful for this time of renewal with my precious family.
What filled our days?
I will start a new post for that as there is so much I want to remember.